Halle Berry. World-class cock and cum target. She knows it. She gets it.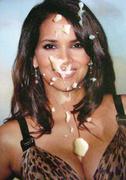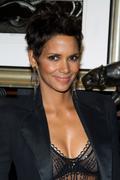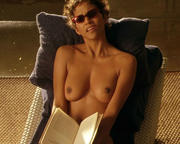 HALLE BERRY IN "HOLLYWOOD, HALLE WOULD"
"So what should we do to you now, Miss Berry?" The voice was sarcastic, mocking her.
Halle felt the tug of the chains through the rings in her nipples as she dangled in the air, her back arched, her legs spread, her anus held open by the vibrating butt plug.
Her head was yanked back as her tormentor grabbed her hair. He removed her ball gag.
"Open your mouth, bitch," he snarled.
The nude bound blonde, suspended directly above Halle, released a flood of pee. There was so much that Halle could not drink it all, so she coughed and sputtered as it flowed all over her face.
"You're not a very good slave, Halle." The slave master turned on the electric current, and the nodes taped to Halle's chocolate body made her thrash like a fish on a dock.
"It seems that we will have to increase the intensity of your training." He raised the level of the current and the shock made Halle flail like a wet towel being snapped.
Halle gasped. She could hardly breathe, much less scream. She didn't know how long she had been in the dungeon, because days had passed without her knowing, just a sequence of pain sessions.
But she had never had so many orgasms one after another.
When her master had let her sleep, she had been forced to curl up nude, her hands cuffed to the dog collar she wore.
The electric shocks stopped. She was lowered to the floor, but the extreme bondage heels made it almost impossible for her to stand.
"Time to eat, slave." The Master pointed to the cat food and water for her. Halle crawled towards it as the Master's whip stung her buttocks and breasts. She suddenly felt her bowels letting go.
"You need to shit?" he asked. "Then shit." She crouched like an animal, and defecated as he watched her, collecting her feces in a silver dish.
Halle looked at her Master. His naked body was lean, sculpted muscle. His foot-long prick was like polished marble.
Giant penis bobbing, he walked over to the suspended blonde and fed her the dish of Halle's crap.
Halle rubbed her thighs together to give herself another orgasm. This time, she allowed herself to scream with pleasure.
The director yelled, "Cut! That was fucking awesome, Halle. Fucking awesome." The film crew was masturbating. Halle signalled to each one of them to approach her. She collected their jets of sperm in her mouth.
"You're a fucking pro, Halle," the director said as the production assistant undid Berry's shackles. "You're a total fucking pro."
'The Master' approached. He was a leading man in Hollywood action films who enjoyed doing these 'private porn movies' for special clients who paid the stars extremely well to perform. "A fucking pro is right," he smiled. "Halle almost makes me want to be straight." The actor's boyfriend, equally chiseled, had been waiting on the set, and was now sucking his dick.
Halle interceded. "Save some for me, white boy." Her tongue was flicking the head of the actor's marble schlong. "I really think we have great chemistry on screen."
The director felt his own cock throbbing as he saw Halle and the boyfriend lick the leading man's shaft and balls until the cum eruption was like a volcano.
"Fuck. The best scenes always happen when you don't have a camera," the director cursed as he came all over himself too.
That evening Halle attended a party at a beach house on the Pacific Ocean. The party was given by Zog, a sex guru popular with the avant-garde crowd of the Hollywood sex set Halle ran with.
She arrived at the beach house wearing a sheer metallic halter dress, giant hoop earrings, gladiator sandals with eight inch heels, her pussy freshly shaved and bare.
There was an orgy in full swing, naked bodies scattered all over the house. The guru was a compact Persian with a neatly trimmed salt and pepper beard. His 'Zog's Magic Cock Juice' had been sampled and endorsed by the top ladies in Los Angeles. Zog kissed Halle's hand as if she was royalty. "Halle The Goddess graces us with her appearance," he whispered. "Come, my dear, come meet the producers of your next film."
He led her out to the balcony, where the setting sun was beginning to caress the waves. The 'producers' were a group of sheiks from the Emirates. There were half a dozen, their dicks bulging already at the thought of their first 'production meeting' with the notorious Halle Berry.
Halle accepted a glass of champagne and took a sip. The work was hard. But life was good.